Vindsubsidies announces second acquisition to further accelerate growth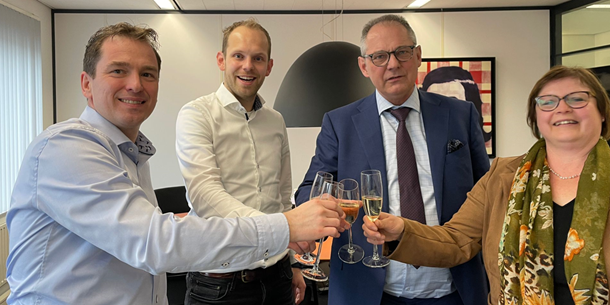 Full-service grant consultancy Vindsubsidies is proud to announce that it has acquired Knippenborg subsidieadvies. The acquisition follows the successful acquisition and integration of Boonstoppel Subsidie Advies at the end of last year and marks another important step towards market leadership. CEO Henk Heerink notes: "In the coming years Vindsubsidies will continue to focus on acquiring high-quality grant consultancies such as Boonstoppel and Knippenborg and continue our growth trajectory."
This year marks Vindsubsidies' 25th anniversary and Gerwin Knippenborg, founder of Knippenborg subsidieadvies, has played an important role in that history, being one of the original founders of Vindsubsidies' parent company. It therefore goes without saying that the two companies are a perfect cultural fit.
With the acquisition of Knippenborg, Vindsubsidies further expands its customer base. According to Heerink: "Knippenborg brings considerable grant and sector-specific expertise. The 9 consultants will add substantial value to our existing consultancy teams." Knippenborg customers can henceforth count on Vindsubsidies' end-to-end offering of grant expertise and technology-enabled services across the private and public sector.
CEO Henk Heerink: "Experience shows that following an acquisition the customers and employees benefit the most. Customers benefit from a more comprehensive offering and employees can take full advantage of Vindsubsidies' expertise and resources to accelerate professional development. We expect the highly-experienced Knippenborg team to integrate seamlessly into Vindsubsidies and take full advantage of the innovative technology Vindsubsidies has developed over the years."
Nicholas Theuerkauf, Managing Partner of SilverTree Equity, said "The acquisition of Knippenborg further expands Vindsubsidies leadership position in the Netherlands and enhances the value proposition to customers". John Messamore, Managing Partner of SilverTree Equity, added "Along with the acquisition of Boonstoppel in October 2021, the addition of Knippenborg further validates our strong commitment to expanding Vindsubsidies' footprint and accelerating growth through acquisition."
Director Gerwin Knippenborg about the takeover of his company: ,,I am convinced that I could not have found a better company for my colleagues and customers. I was allowed to be the founder of both organizations and can therefore not imagine a better match with our DNA."
About Vindsubsidies
Founded in 1997, Vindsubsidies is a market-leading grant consultancy business with the most comprehensive grants and subsidies funding database in the Netherlands. Vindsubsidies supports the innovation economy by helping organizations identify, apply for, and win mission critical grants and subsidies that support investments in innovation, sustainability and talent. Vindsubsidies employs highly qualified, specialized, and experienced consultants to initiate and manage grant projects on a regional, national and European level. Vindsubsidies has offices in Utrecht, Deventer, Enschede, Druten and as of now also in Lochem.
About SilverTree Equity
SilverTree Equity is a sector specialist private equity firm. SilverTree invests exclusively in software, technology, and technology-enabled businesses. The firm is differentiated by its focus on value creation, sector specialism, and deep network of operational resources and industry relationships. The SilverTree team has successfully completed or been involved in over 50 transactions. For more information, please visit www.silvertree-equity.com.
For more information about this press release:
Roy Kuipers
Marketing Manager
Roy.Kuipers@vindsubsidies.nl