Vindsubsidies acquires Boonstoppel Subsidie Advies and continues its growth development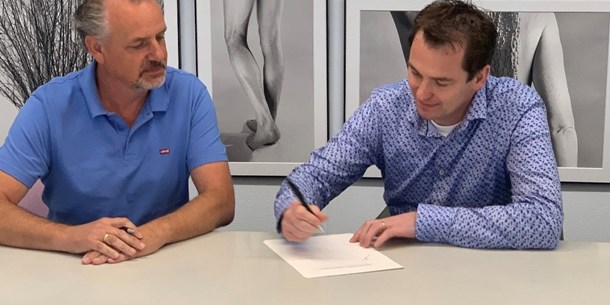 Dirk Boonstoppel of Boonstoppel Subsidie ​​Advies (l) and Henk Heerink, general manager of Vindsubsidies sign for the takeover.

Through the acquisition Vindsubsidies takes over several thousands of grants trajectories for a varied client portfolio. With the acquisition Vindsubsidies strengthens its market position as leading full service subsidy agency. The Boonstoppel Subsidie Advies employees will continue to grow along with Vindsubsidies and can now offer their clients a full package of subsidy products and services.


Director Henk Heerink from Vindsubsidies welcomes the deal and the expertise that Boonstoppel Subsidie Advies will bring. ,,The services that Boonstoppel Subsidie Advies and Vindsubsidies offer match perfectly. As a result, a win-win situation is formed, with the client as the major winner."
In the next years Vindsubsidies, under the wings of private equity investor SilverTree, will continue to focus on further growth. The agency wants to win market terrain by focusing on experienced partners such as Boonstoppel Subsidie Advies, that have direct added value through their specialist knowledge.

About Boonstoppel Subsidie Advies
Boonstoppel Subsidie Advies has been a professional partner in subsidies since 2005. Qualitatively high-end services, but with a strong personal nature. They prefer not to work for the client, but wíth the client. They strive for a sustainable partner relation, where they will always take that extra step. Formal when needed, informal when possible. 
Dirk Boonstoppel about the takeover of his company: ,,Vindsubsidies is the perfect candidate to continue and expand our philosophy with. Our clients will have a total package solution with the same personal attention and professionality, but with a broader and larger knowledge network. We are proud that we as Boonstoppel can go along with this."

About Vindsubsidies
Vindsubsidies, founded in 1997, offers as only agency in the Netherlands a full service in subsidies, with consultancy and a range of online products, such as subsidy databases. In doing so, Vindsubsidies contributes on a daily basis to innovation, progress and sustainability within all sectors in the Netherlands, and within (international) consortia. At Vindsubsidies solely highly educated, specialized and experienced consultants work on delivering top quality for initiating and managing subsidy projects on regional, national and European level. Vindsubsidies has offices in Utrecht, Deventer and Enschede.

For more information about this press release:
Roy Kuipers Marketing Manager