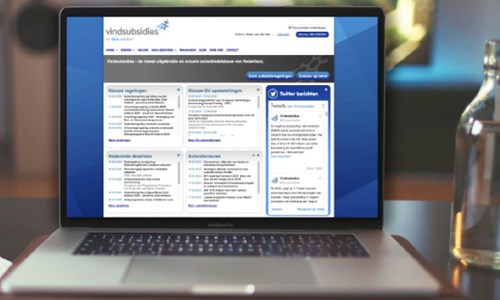 The most extensive grant database in the Netherlands
With the database Vindsubsidies.nl we have the largest and most extensive grant database in the Netherlands. This means that 18 researchers will automatically keep you informed of the latest news in the world of grants and funding.
The site makes it possible to search for grant opportunities yourself or you will be warned if there are new grant opportunities for your project. You will also find all relevant information about the schemes. This includes application forms, legal texts, case law and the contact details of the grant provider.
Our specialists will immediately get to work with your wishes. The grant landscape is a piece of cake for our employees. This means you don't have to reinvent the wheel and you save a lot of time.
Increase your grant opportunities
Our team of expert researchers and advisers will be happy to take over the search for grant opportunities for you. That saves time and increases your grant opportunities. You will receive a clear screening report from us with a detailed description of your options.
Have your scoring opportunities identified
If desired, we advise you on the scoring probability of each subsidy scheme and help you submit your grant application.